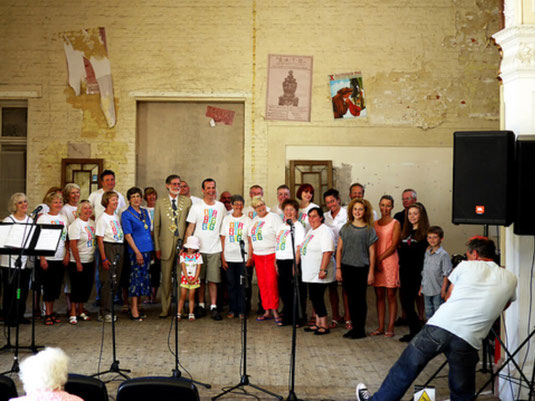 The Mayor of Bournemouth fulfilled a life-long dream at a special event in the town.
Cllr Rod Cooper, right, stepped into the shoes of Wessex Chorus' musical director Martin Arthur at Bournemouth's Our Big Gig to conduct the choir.  The event, part of a nationwide series of gigs, took place at boscombe's Shelley Manor.
Cllr Cooper said: "It has always been something I've wanted to do.  I thoroughly enjoyed it.  I love classical music, and when home alone, I've been known to imagine I'm conducting the orchestra.  It was a spur of the moment decision rather than something that was planned, but it was fantastic."
He joked: "I have a feeling that Martin may have been standing behind me to conduct the choir, but I certainly didn't see him."
The mayor is a real music fan, with thousands of albums stashed away. He said: "I've got about 2,500 to 3,000 LPs.
"If I were to pick just one for my Desert Island Discs, I think it would have to be Handel – perhaps Messiah or his music for the Coronation of King George."
The community choir, which featured on the BBC's Tonight's the Night in 2010, was chosen to stage the event after its work raising thousands of pounds for local charities.
Mr Arthur said: "The mayor did very well. I know he was really excited about the event, which was lovely, and he'd had a very busy day, so we were delighted that he made it along. Both he and the mayoress were great sports. I had them taking part in the choir's warm-up, which includes pilates as well as singing, and they were really keen to get involved."
The popular gig was visited by around 250 people during the day.