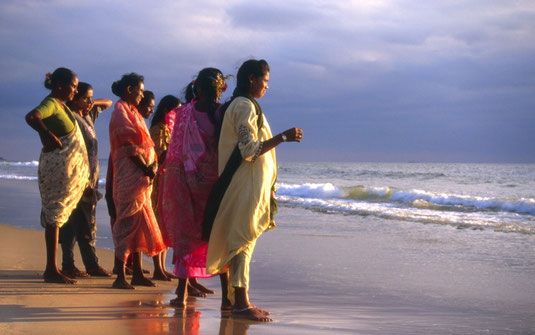 Much of the charity work here involves the 'gypsy families' known as 'Lamanis' in India, of which there are over 6 million, 2.25 million of whom live in Karnataka but many travel to Goa to find work and income to support their children. It is a sad fact that the Lamani husband seems to disappear from view after one year of marriage, leaving the Mother to do everything for the children.
These Mothers get a half day off each week, but we managed to extend this to one day on Sunday 15 February 2015. Utilising the donation from Martin at the Accountancy Coop to fund part of the costs, a 35 seater coach was hired for that day to take the Mothers and the tiny children to a beautiful location named Agonda in South Goa.
As it was the day after Valentine's Day, each Mother wore a red rose in her hair. Chicken biryani (the favourite), drinks, fruit, chocolate and ice creams were part of this wonderful day out…intended to show these Mothers how they deserve to, and should be, treated.
A reflectionL one Mother known to me for nearly 5 years was seen skipping along the beach, hand in hand, with her friend…when I remarked that I had never seen her act with such joy, I was told her husband did not want to see her laughing and joking. That just about says it all…and why this fight to support the girl child and Mothers of India will go on.