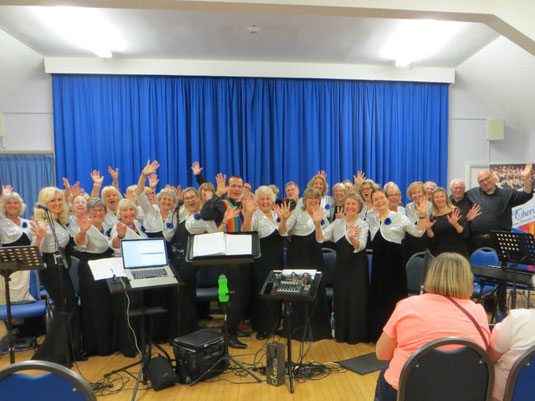 The Blind Society of Bournemouth and friends are so welcoming and kind, providing a wonderful venue at Rooper Hall, with an amazing refreshment tent adjoining the main hall. 
A night that was both fun and ethereal, with music from the shows, gospel, television and classical giving a variety and sound that showed off our ensemble and diction at its finest.
Many of our favourite composers and arrangers did us proud, giving us challenges of music both old and new, especially for our last night of the season concert.
Our comments "the best concert yet" and "it was like I was in heaven listening to the angels", really moved us; as did the very generous donations in our collection for our charitable work. 
We raised in the region of £600 for the Bournemouth Blind Society's very important and long-standing work with its partial sighted and blind members. Plus, we had a large number of tickets sold for our superb raffle. We also, said "au revoir "to our member Norma, who has been the main organiser of our raffle. She has been such a dynamic organiser of our fund-raising team and served on our committee for many years. We will miss her and hope she will come back to us next year.