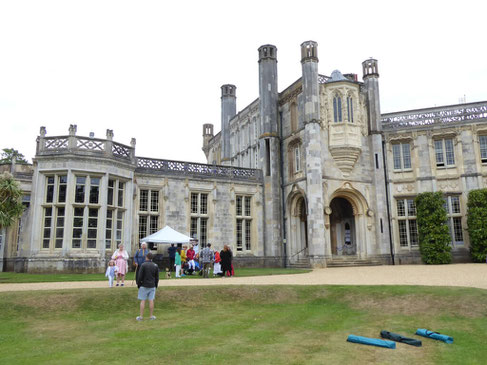 A wonderful Jubilee celebration of singing at Highcliffe Castle.
Highcliffe Castle Platinum Jubilee Celebration was a great event of singing, socialising and (mostly) sunshine. 
Several choirs performed outside the stunning castle and just missed the oncoming rain!
We set up early, warming up at 10:45 then gave a full and varied concert in our red, white and blue celebration clothing. Our performance was well received and we ended on a high with the national anthem in royal style with a fantastic response from those listening. At least 200 of us enjoyed paying tribute to HM Queen Elizabeth on this special day. 
We were joined by other lovely choirs and really did ourselves proud. A good opportunity for singalongs, hand waving and clapping too. 
Thank you to all the staff at Highcliffe castle for making us so welcome.
God bless
Martin
---