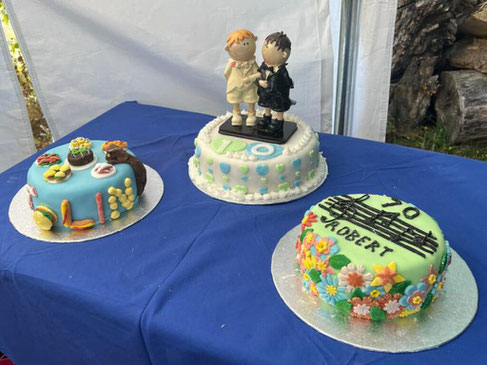 A wonderful triple celebration of  a 60th and a 70th birthday plus a 10th anniversary in the lovely setting of West Wellow in the New Forest.
About 60 choir, friends and relations gathered under a very large marquee, decorated with beautiful flowers on each table from the amazing garden. There was a fantastic meal of sucking pulled pork rolls with salad followed by some beautiful cakes. Gluten free too!
The choir sang and we were serenaded on the piano all afternoon.  A hamper was presented and also a lovely olive tree to enhance the already beautiful garden.  Everyone had fun and enjoyed this wonderful day and some even stayed the night, camping in the adjoining fields. 
A great chance for singing and jolliness and reliving old memories.