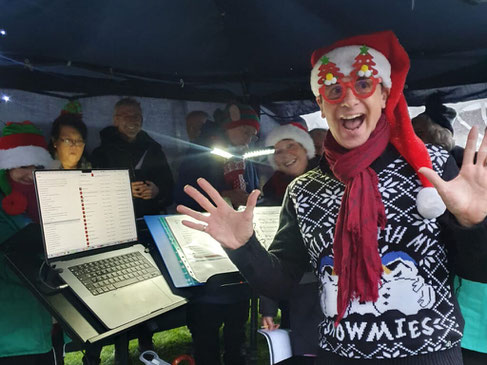 A rainy start to our carol concert on Pelham's Green in Kinson.
We huddled beneath a gazebo - there to keep all the electronics dry.
The audience was magnificent, coming out to support us and sing in the rain. Fortunately the weather eased off just as we were about to start, and we had a fun time singing our Christmas Carols and songs. 
A big thank you to Rev Lee Shervill of St. Andrew's Kinson, all those that turned out to sing with us, and also to Tesco for providing everyone with delicious mince pies.
All proceeds are going towards out four charities:
Music Therapy at Poole Child Development Centre, Moordown Day Centre, Dorset Children's Foundation and Hope for food.
More details on our charities here: CHARITIES