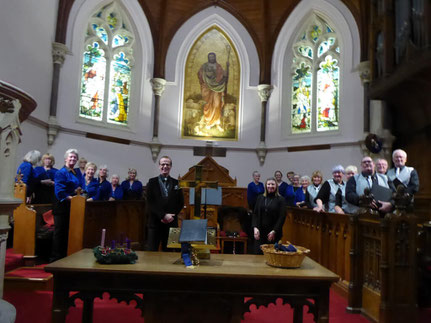 A moving carol service in the beautiful St. Andrew's United Reform Church in the town centre. 
We were welcomed by the presence of The Mayor of Bournemouth and the Provincial Grand Master.
We sang Christmas pieces and favourite carols amongst bible reading in a traditional format of the lessons and carols, and Rev Robin Nash talked about the Gospel according to Joseph.
The choir sang with gusto and were  supported by our lovely accompanist Ewa Irek who dashed back and forth between organ and piano. The sound was quite magical and ethereal and it was a pleasure to be singing for the Hampshire Freemason's area carol Service again.
Refreshments afterwards were at the Knole. A great afternoon and very Christmassy too!
All proceeds go towards our four charities:
Music Therapy at Poole Child Development Centre, Moordown Day Centre, Dorset Children's Foundation and Hope for food.
More details on our charities here: CHARITIES
Thank you to all who gave so generously.