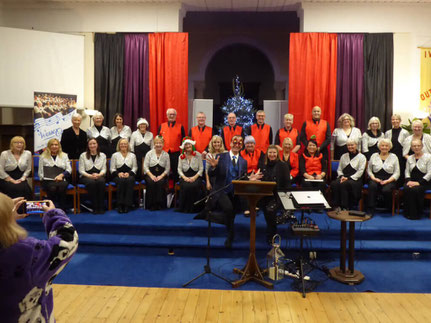 A great turnout on such a bitter frosty night; our choir members really rallied round to overcome so many of them being unable to attend due to coughs, colds, the flu - and other ailments even more serious! - and still managed to make a great sound and sing with passion and joy. 
A great turnout from the audience too - a surprisingly large group of new friends of Wessex Chorus coming on such a cold night. 
The audience were treated to festive songs and carols and joined in with gusto. Music Director, Martin, bravely filled in at the last minute as many of the solo gaps as he could, and managed the evening with panache and happy enthusiasm; he also shared personal stories and anecdotes to bring tears and laughter. 
We were blessed with enthusiastic readers and singers, and Martin even slipped in a surprise or two - with birthday wishes and a round of Twelve Days of Christmas for the whole audience to get their singing teeth into. 
A welcome cup of tea and cake warmed us all in the interval, and a magnificent raffle followed - so many prizes! A big thank you to the two winners that kindly donated their bumper hampers to our Hope For Food charity - they also went away with our spare mince pies! Thank you to all our enthusiastic supporting choir helpers who served a significant number of refreshments, with our home made cakes and biscuits.
Two of our sponsored charities were able to be with us - Mary & Eddie Duncan from Hope for Food and  Malcolm & Jenny from the Dorset Children's Foundation.
Mary from Hope for Food spoke with passion about the plight of those in the Bournemouth, and how their charity is made up totally of volunteers and provides food all year round - not just at Christmas. Malcolm was generous in his appreciation of our choir's support to his charity, mentioning that the founders (Patsy Hallmey & Scott Akam) couldn't attend this evening as they were giving a full Christmas Eve and Christmas Day experience to a child in palliative care.
More on our charities here:
We raised over £400 for our charities this evening. A big thank you to all who contributed with tickets, donations, music and help. A great festive night was had by all.
Merry Christmas!
---